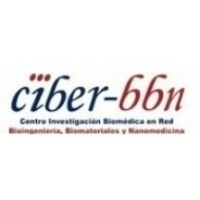 CIBER-BBN
Technology Transfer Office
Spain · Madrid | BASIC
CIBER-BBN is a Biomedical Research Networking Center focused to develope research activities in the fields of Bioengineering, Biomaterials and Nanomedicine. It is designed to be a translational research center with multidisciplinary nature as well as multi-institutional nature.

Our strategic research lines comprises: Telemedicine, Molecular imaging, Tissue engineering, Biocompatible nanoparticles, Biosensors, Implantable nanomachines or nanorobots for biomedical diagnosis, and Drug delivery.
Research areas
Care, Hygiene, Beauty, Cosmetics
Biosensor
Cytology, Cancerology, Oncology
Diagnostics, Diagnosis
Gene - DNA Therapy
and 30 more
Organization Website

Organization Type

Technology Transfer Office

Founded

Headquarters
Start collaborating!
We are currently seeking best-in-class collaboration partners for the postings listed below. You can respond to current opportunities by browsing the listed entries. We do want to invite you to cooperate with us so please contact us through the available template and we will get in contact with you. Please provide as much detailed information as possible in order to facilitate the engagement process.
Contact Person Ciber bbn
Licensing Manager at CIBER-BBN